The first date, the first kiss, first red rose. Teenage is about so many firsts. Isn't it? Teenage romance is vulnerable, innocent, and uber-cute. If violins are playing in your head when you are around your crush or special someone, there are fair chances you are hit by the cupid.
And if you are looking for some melodies to dedicate to your crush, here are some of the best teen love songs that tell cute tales of teenage love.
20 Teen Love Songs
Grab your headphones and explore some of the best romantic melodies that you can enjoy listening to with your crush.
1. Heat Waves – Glass Animals
Watching your crush pass by can give you a million butterflies. And when they are not around, you miss them terribly. This song perfectly represents this feeling, as the singer is walking under the hot sun in hopes of meeting his crush.
Listen to it here:
2. Yummy – Justin Bieber
Justin Bieber has stolen the hearts of millions of fans worldwide. Yummy features him expressing his crazy love without any fear or hesitation.
Listen to it here:
3. Fireflies – Owl City
Imagine spending time with a teenage crush under the dark sky with twinkling stars and 1000 fireflies. Sounds dream, right? Fireflies is a fun pop song that makes you feel closer to your crush regardless of the distance.
Listen to it here:
4. Wake Me Up When September Ends – Green Day
Greenday's most popular song, "Wake me up when September ends" is a soulful melody. The song's video showcases the story of teenage lovers during the war. The young boy joins the army, leaving his true love behind, and heads on to serve the nation.
Listen to it here:
5. Selfish Love – Selena Gomez ft DJ Snake
Teenage songs are incomplete without the mention of Selena Gomez. This song is about selfish love. Send this to your partner or practice singing before a Karaoke night. The rhythm is sure to get you grooving!
Listen to it here:
6. Perfect – Ed Sheeran
Ed Sheeran rules the world of romantic love songs trending amongst teens. So, groove to this one and feel the bliss of your first crush.
Listen to it here:
7. Thousand Years – Christina Perri
Promises, commitment, and innocence, these factors come between teenagers when they feel infatuated with someone. Thousand Years is an evergreen love song sung by Christina Perri and was also featured in the Twilight saga.
Listen to it here:
8. Perfect Two – Auburn
You are sugar to my tea; you are the peanut butter to my jelly; we are the perfect two. Yeah! We are the perfect two, yes, baby, you and me. Play this song! It's one of the cutest teen songs available on YouTube.
Listen to it here:
9. Trap Queen – Fetty Wap – Piano Cover – Josh Levis
Hip Hop and RnB music is the next most loved genre amongst teenagers. Here's the remake of the original Fetty Wap song "Trap Queen," performed by talented pianist Josh Levis. His piano skills, along with soulful lyrics can bring out all the emotions in you.
Listen to it here:
10. No Games – Sickick
Video games are boys' first love, so here's the perfect song to share with teenage boyfriends. Let your love turn him into a video game character. A true dedication for a PlayStation freak!
Listen to it here:
11. Teenage Dirtbag – Wheatus
American Rock Band "Wheatus" is here to remind you of teenage love. This song became instantly popular during its release year. The rhythm and peppy beats are sure to get you grooving.
Listen to it here:
12. Right Where You Want Me – Jesse McCartney
The American singer-songwriter is the next on the music chart of best teenage songs to play for a crush. Always be there when she wants you. Follow her, keep your eyes glued on her, and take advantage of the right time to express the emotions hidden in your heart.
Listen to it here:
13. Teenage Dream – Kidd G
Do you still dream about your first crush at school? The music and lyrics of this song are synced accurately with perfection. Try to sing Teenage Dream to your crush if the sweet lines touch your heart.
Listen to it here:
14. Crush – David Archuleta
She's your classmate, you love her, but you are unable to find words to express your feelings. Try this song, and you will feel confident to say what all is hidden in your heart. Express the true emotions without any hesitation. This song is best to convey your secret feelings to someone you are crushing on.
Listen to it here:
15. What Makes You Beautiful – One Direction
Next on the list is the song from the band that has been rocking since their teenage. Girls love their music, so you need to say it in One Direction style – What makes you beautiful! Dedicate this one to your teen crush at college.
Listen to it here:
16. American Teen – Khalid
Call this one the top-selling teen pop song. Released in 2017, American Teen is Khalid's debut studio album. He is a popular teen American singer. If you can connect to the romantic vibes of this song, then may be create a solo cover of American Teen and surprise someone special.
Listen to it here:
17. Teenage Romance – Bars and Melody ft Mike
Play this song and try some popping and locking with your teen friends. Teenage romance may seem complicated, but it's undoubtedly the sweetest feeling in the entire world.
Listen to it here:
18. First Date – Blink 182
Everything is sweet and fantastic about the first date. Typical for a first date is nervousness and uncertainty, described perfectly in the song First Date by Blink 182. Groove to this one, if you are a true metalhead.
Listen to it here:
19. Teenage Mind – Tata McRae
The mind of a teenager is filled with confusions, this or that, right and wrong. Clear every doubt popping in your mind before you accept or reject the proposal of friendship. Choose the one who is true and knows how to respect you as a partner. Play this song for more inspiration.
Listen to it here:
20. Beautiful Girls – Sean Kingston
So many cute faces at the college fest: she's the prettiest, she's the coolest, but where's the one your heart is searching for? Beautiful Girls says it all. Sean Kingston performance in this song made it one of the best teen pop songs.
Listen to it here:
Romantic songs easily connect you with the person you love the most. This list of teen love songs to dedicate to your crush may have already evoked the memories of someone special. If you are feeling the romantic vibe, listen to these teenage pop songs on repeat.
The following two tabs change content below.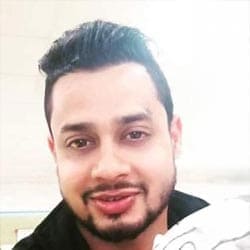 Shivank Joshi
Shivank is an experienced professional with a passion for writing, editing, and research. With a bachelor's degree in Mass Communication, he previously worked as a production editor. Shivank transitioned into a writer/editor, contributing to various publications as a freelancer. He writes literature, including quotes, poems and wishes, for MomJunction. He has a special interest in music and relationships. During his…
more