Strawberry is a nutrient-dense fruit rich in vitamins, fiber, and antioxidants. But since they are acidic, parents might want to know when can babies have strawberries? Thankfully, you may make strawberries a part of a baby's weaning diet. The fruit can contribute to their overall nutritional needs, promoting their health and supporting growth and development.
Read on to know when can babies eat strawberries, what possible health benefits they can offer to babies, and the age-appropriate ways to feed them to your little one.
When Can Babies Have Strawberries?
Most healthy babies eating solid foods can have strawberries from around six months (1). First, you can feed smooth, lump-free strawberry puree or mash to babies in small amounts. Once the baby develops the taste and digestibility for the fruit, you can add strawberries to purees made with different fruits and vegetables, such as banana, apple, papaya, or butternut squash.
When babies start eating strawberries, they may develop rashes around their mouths. Parents may link these rashes to an allergic reaction, but strawberries are hypoallergenic, and these rashes usually develop due to the fruit's acidic nature. According to experts, these rashes are more common in babies with sensitive skin and eczema (2). Nevertheless, be cautious and discuss any history of your baby's food allergies with a pediatrician before serving strawberries to your baby.
Nutritional Value Of Strawberries
There are over 100 strawberry varieties available in the US (3). These varieties vary slightly in appearance and taste, but on average, one fruit of strawberry (18g) can offer the following nutrients to contribute to your baby's dietary requirements (4) (5).
| Nutrients | Amount | AI* (6 to 12 months) |
| --- | --- | --- |
| Water | 16.4g | – |
| Fiber, total dietary | 0.36g | – |
| Calcium, Cal | 2.88mg | – |
| Iron, Fe | 0.074mg | 11mg (RDA*) |
| Magnesium, Mg | 2.34mg | 75mg |
| Phosphorus, P | 4.32mg | 275mg |
| Potassium, K | 27.5mg | 860mg |
| Vitamin C, total ascorbic acid | 10.6mg | 50mg |
| Folate, total | 4.32µg | 600µg |
*AI = Adequate intake – nutrient level assumed to ensure nutritional adequacy
RDA = Recommended dietary allowance
Source: US Food And Drug Administration and Dietary Guidelines For Americans 2020-2025
Possible Health Benefits Of Strawberries
Strawberries contain several nutrients and bioactive compounds that benefit health over time. Here's a brief insight into some of these potential benefits (6).
Hydrates the baby: One 18g of strawberry contains 16.4g of water, making strawberry one of the most hydrating fruits you can offer to your little one. Babies have a very sensitive body that can dehydrate readily. So, feeding strawberries to babies can contribute to their daily water needs and ensure optimal hydration.
Supports digestive health: Strawberry is a fibrous fruit. People across ages groups, including babies, need fiber to add bulk and smoothen bowel movements, preventing constipation. Fiber from strawberries can also act as a prebiotic (food for healthy bacteria) that can help probiotics (healthy bacteria) thrive.
Strengthens immune system: Babies have an immature immune system, and they must consume healthy food to make it robust. Strawberries are an excellent source of vitamin C and phytochemicals, such as anthocyanins and phenolic acids. These compounds possess antioxidant properties that strengthen the immune system and help babies fight infections and diseases.
Aids overall development: Strawberries contain folate, potassium, magnesium, phosphorus, calcium, and iron. These nutrients help various physiological functions and are essential for healthy growth. For instance, folate in strawberries can help cellular growth, whereas potassium and magnesium help maintain the electrolyte balance.
Tips To Select And Store Strawberries
Strawberries don't ripen after harvest. Therefore, pay attention to the fruit's ripeness while shopping. Picking fully ripe strawberries is good as their sweet taste will come across as pleasant to most babies.
Look for ripe strawberries with bright red, glossy flesh with no white or green areas. Discard those too soft and with deep red color as they are most likely overripe.
Pick strawberries with no pits/holes, black/brown spots, or blemishes. When touched, they should feel soft yet firm.
Clean the strawberries with a dry cloth as soon as you get them home. Never wash strawberries unless you are eating them immediately after washing.
Refrigerate strawberries in a plastic or paper bag uncovered for 24 hours or put them in a sealed freezer bag and freeze for several months.
If fresh strawberries aren't available, you may buy canned or frozen strawberries. While buying canned strawberries, keep the following in mind.
Buy canned strawberries that have been preserved in their juice and not sugar syrup.
Pick well-sealed, rust-free cans with no puffiness and dents.
Precautions To Take While Feeding Strawberries To Babies
Here are some precautionary measures you should follow to ensure the safe ingestion of strawberries.
Buy organic strawberries from a reputable market or store as they are one of the top 20 "dirty dozen" foods with a high pesticide residue (7).
Initially, feed smooth, lump-free strawberry mash or puree. If the baby looks uncomfortable, discontinue feeding and try feeding after some time. Talk to a doctor if discomfort reappears.
Follow the three-day wait rule and feed no new food while feeding strawberries to your baby. It will help rule out sensitivity, intolerance, or allergy caused by strawberries.
At first, feed only one to two teaspoons of strawberry puree/mash to the baby. Once the baby looks comfortable, gradually increase to desired quantities. Serve thinly sliced pieces of strawberries as finger food at around nine months. Do not feed whole strawberries since they may be choking hazards.
Allergy to strawberries is uncommon yet possible. Its symptoms may come up immediately after touching or ingesting strawberries. Some of the common symptoms you should watch are itchy skin rash (hives), wheezing, coughing, vomiting, diarrhea, and throat pain.
Talk to a doctor before feeding strawberries to your baby if they have a family history of allergies to birch pollen and foods belonging to the Rosaceae family (cherries, apple, pear, apricot, and almond) (8). Other foods that may cross-react with strawberries are banana, carrot, and celery.
Don't feed strawberry juice to babies and toddlers unless directed otherwise by your healthcare provider. Feeding fruit juices to babies and toddlers may contribute to unwanted weight gain and dental cavities.
Delicious Strawberry Recipes For Babies And Toddlers
Here are a few strawberry recipes you can feed your baby and toddler as a part of a healthy, well-balanced meal.
1. Strawberry and banana puree
You will need
½ banana (chopped)
3-4 fresh, ripe strawberries (washed and boiled)
How to make
Blend all the ingredients into a smooth, lump-free puree using a blender or food processor.
Transfer the puree to a feeding bowl and feed the baby. Alternatively, you can add Greek yogurt and cooked apples to make the preparation more nutritious.
2. Strawberry and apple puree
You will need
1 cup strawberries (chopped)
¼ cup fresh blueberries
1 apple (peeled, cored, and diced)
How to make
Place all the fruits in a saucepan and cook over high heat for two minutes. After two minutes, lower the heat and cook the fruits in their juice for an additional five minutes. Turn off the heat and set the saucepan aside until it cools.
Pour the fruit puree into a food processor and blend until smooth. Ensure there are no lumps present.
Put some puree into a feeding bowl and feed your baby. Transfer the remaining to a BPA-free plastic container or a glass jar, and freeze until use.
3. Strawberry oatmeal
You will need:
2 cups water
1 cup instant oats
10 strawberries (mashed)
1 banana (mashed)
1tsp ground cinnamon
1tsp dates puree
How to make:
Heat water in a pan over medium heat. Add oats and bring the mixture to a boil.
Add mashed strawberries, mashed banana, cinnamon, and dates puree. Stir the mixture well until well-mixed.
Remove the pan from the heat, cover, and let it stand for about five minutes until it turns thick and creamy. Then, feed your baby while the oatmeal is still warm.
4. Strawberry smoothie
You will need
1 cup strawberry
1 cup plain, unsweetened Greek yogurt
½ cup almond milk
1tsp dried fruit powder
How to make
Steam-cook the strawberries until they turn mashable. Set them aside for some time until they cool down.
Chop the steamed strawberries and blend with all the ingredients into a smooth, lump-free smoothie using a food processor.
Pour the smoothie into a feeding cup and let your baby/toddler self-feed.
Strawberry is a delicious and nutritious fruit. You can feed it to your baby from around six months of age in puree or mash form. Feeding strawberries to babies can offer them vital nutrients and bioactive compounds, contributing to their healthy growth and development.
References:
MomJunction's articles are written after analyzing the research works of expert authors and institutions. Our references consist of resources established by authorities in their respective fields. You can learn more about the authenticity of the information we present in our
editorial policy
.
The following two tabs change content below.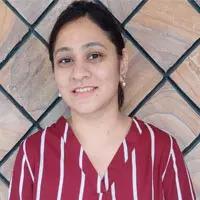 Swati Patwal
Swati Patwal is a clinical nutritionist and toddler mom with over eight years of experience in diverse fields of nutrition. She started her career as a CSR project coordinator for a healthy eating and active lifestyle project catering to school children. Then she worked as a nutrition faculty and clinical nutrition coach in different organizations. Her interest in scientific writing…
more