The joy of finding something! It feels surreal when you find something that has been lost or missing. Isn't it? With a scavenger hunt, you would feel the same. If you are looking for ways to get your child moving and engage in fun play, send them on a treasure hunt. These games can be played both indoors and outdoors. Scavenger hunts are not just fun but challenging, as they help develop creative thinking.
So, if your child is ready to begin exploring, here are some fun outdoor and indoor toddler scavenger hunt ideas that you may try.
20 Outdoor And Indoor Toddler Scavenger Hunt Ideas
Indoor Scavenger Hunt Ideas For Pre-schoolers
Whether you're stuck indoors because of the weather or on a family vacation, here are some ideas for you to put together an indoor scavenger hunt for your children.
1. Number and alphabet hunt
You can encourage your children to learn the alphabet through this fun activity. All you need to do is write down a list of letters on a piece of paper and then scatter, hide, or stick corresponding magnetic letters, foam letters, or self-made chart paper letters around the house. Now, send your children on a hunt to find these letters.
Alternatively, you could switch the letters with numbers and have your children hunt them. Such fun ideas help to improve the observational skills of your toddler.
2. Matching the letter case
A twist on the classic treasure hunt scavenger is getting your children to match lowercase with uppercase letters or vice-versa. Due to this game's interactive nature, it also helps them with learning the letters with ease.
3. Post-it notes scavenger hunt
You can use the printable scavenger hunt ideas from the internet or create your own for this activity. Write down letters, numbers, draw objects or stick photos of a list of items on a sheet of paper that the children will use. Then, paste the pictures, numbers, or corresponding items on the Post-It notes. Now, have your children hunting around the house to find the Post-It notes and match the sticky notes to what's on their list.
4. Numbers and dots scavenger hunt
Choose a central location in your home and place numbers at random spots. Then, give your child a piece of paper with a bunch of dots, which they have to match with the numbers. With this activity, they would not only learn to count but also think out of the box.
5. Pick your color scavenger hunt
Here's a colorful scavenger hunt idea for your child to have fun! Fill a box, bag, or container with bright objects such as pom poms, photos, crayon colors, etc. Next, have your children pick out one of these objects, and then let them run around the house and find objects that match the item's color from the bag or box.
6. Drawing scavenger hunt
Unleash your child's creativity and let them draw to their heart's content in this indoor scavenger hunt. This involves a list of colors that children have to use to find different objects and then draw that object on paper.
7. Clothing scavenger hunt
Does your little one trouble you while getting dressed? Turn this into a fun activity to make it a little easier for you and engaging for your child. Simply call out different types of clothing like brown pants, white car t-shirt, blue socks, yellow shoes, etc., and get your toddler to bring them to you. Once you've collected all your items, you can either dress them or ask them to wear each piece themselves.
8. Shape scavenger Hunt
Toddlers are fascinated by unique shapes. And this toddler scavenger hunt is perfect for helping them learn new shapes. For this, you could download a printable version of shapes and have your child match different objects around the house to the shapes given on the paper.
9. 'Things I love' scavenger hunt
Children have distinct tastes, and you could encourage them to discover new things they may love. To begin with, write down a list of cues such as:
Something that smells good
Something that tastes good
Something I like to hold
Something that is my favorite color
Something that makes me happy
Something I'm thankful for
Now, have your child search for these items and bring them to you. Who knows, you may come across something new through this activity.
10. Art scavenger Hunt
For those artistic minds, this hunt is the perfect one to let their creative juices flowing. All you need is to list down a bunch of craft items such as a feather, crayons, glue, newspaper, etc. Now, ask your child to hunt for these tools. Once they have gathered all the items, they can create something spectacular.
Outdoor Scavenger Hunt Ideas For Pre-schoolers
Bored staying indoors? Try these outdoor scavenger hunt ideas for your little ones. These activities are sure to get your kid excited to head out.
11. Grocery store scavenger hunt
Take your child grocery shopping and plan a scavenger hunt simultaneously. How? Create your shopping list and then hand it to your children. Ask them to find all the items on the list. Now, watch how many they can find.
12. Animal scavenger hunt
Whether it's the local zoo, a walk in the park, or your backyard, you can make a list of animals or birds and get your child to spot them.
13. Backyard nature scavenger hunt
You can make your own or download a printable version with an entire list of items from nature that you can find in the backyard. From rocks, leaves to flowers, and more, you can send your little ones on a mini-adventure while you sit by the porch and sip on your tea.
14. Leaf scavenger hunt
Similar to the backyard nature scavenger hunt, in this version, all your little one has to do is look for unique leaves. It's quite surprising how many different leaves you can find in your backyard or neighborhood.
15. 'Find the color' scavenger hunt
Do you want to keep your little one engaged while you catch up on some reading? Grab a few white-colored paper bags or color some swatches with markers on them. Then hand the bags to your children and ask them to fill them with items that match the color of the bag.
16. Sensory skills scavenger hunt
For this sensory game, you could make your list or download one from the internet, essentially containing things to find, such as:
Something to jump over
Something shiny
Something that smells nice
Something soft
Something squishy
Something loud
Your child has to find these items and bring them to you.
17. 'Sketch what you see' scavenger hunt
To organize this hunt, get a sheet of paper and draw a table with large boxes. Then you can give them a theme such as green color, nature and ask them to fill the boxes with anything they find is relevant to the theme. You can play this in the backyard or at a park.
18. Bug-themed scavenger hunt
Give children a sheet of paper containing various bug pictures and ask them to find them in the backyard. It can be any bug or insect such as mosquitoes, ants, or worms easily found in your surroundings.
19. Neighborhood scavenger hunt
In this fun outdoor scavenger hunt, give your child a list of things to spot. Street signs, birdhouses, basketball hoops, a trash can, a for-sale character, a blue front door, or anything specific to your neighborhood.
20. Seasonal scavenger hunt
Whether spring, summer, autumn, or winter, every season is unique. As seasons change, your scavenger hunts can vary too. In summer, children can go to the park and look for unique shades of the environment; in autumn, they pick out leaves, and in spring, they look for flowers. This helps them become aware of the changes each season brings and helps them learn how different seasons work and what is unique about them.
Whether you are stuck indoors during winters or heading out for a fun day at the park in the summers, these scavenger hunt ideas are sure to keep your little ones entertained. Next time when you are running out of ideas, pick one from this list.
The following two tabs change content below.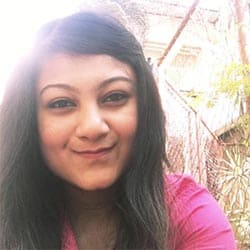 Advaitaa Ravi
Advaitaa is a digital marketing and content writing specialist with around seven years of experience. She's worked on a variety of genres including travel, fashion, beauty, lifestyle, and health and wellness. For MomJunction, she writes on kids' activities, learning and development. Having completed her graduation in business management, Advaitaa went on to study fashion merchandising from the Fashion Institute of Technology,…
more