If you live where it snows, you are blessed to be experiencing the winter wonderland. Decorating the house with warm lights, collecting pinecones, and sipping on hot coffee, cuddling up in blankets give you such cozy vibes. Isn't it?
And if your little one is keen on stepping out, let them have fun in the snow. We have compiled some of the best snow activities for preschool children and toddlers. Read on.
20 Snow Activities For Toddlers And Preschoolers
1. Catching snowflakes
This classic activity can be enjoyed by people of any age. The toddlers have to catch the snowflakes on their tongues or mittens. Catching a drifting snowflake and watching it melt slowly can be magical. It requires no preparation or materials. When it starts snowing, just walk outside and enjoy.
2. Ice painting
Let the children collect snow from your backyard. Divide the snow into sections and add unique watercolors to each section. Now, place these sections of snow on sheets of paper and watch them melt and create new patterns on the paper.
If you live in a no-snow area, you can add color to the water and freeze it in your refrigerator. Then, give the ice cubes to children to paint on sheets of paper in their favorite colors.
3. Big snowflake
Perfect for décor. Get some paint sticks, white glue, shaving cream, craft glue, and other décor items. Mix the white glue and shaving cream in equal quantities to make it fluffy. Mix it well. Stick the paint sticks in the shape of a snowflake. Apply the fluffy paint to the stick snowflake and let it dry. You can add any decoration to the snowflake, such as pom-poms, sequins, and glitter. With this fun activity, your child can also learn team-building skills.
4. Snowball stacking
Toddlers find stacking snowballs and pushing them over irresistible. They can do this over and over for hours. Besides being fun, it also develops their hand-eye coordination and motor skills. But make sure they are wearing mittens. Let your toddler spend their time in your backyard making, stacking, and knocking off snowballs.
5. Mini snowman
Making a big snowman is hard work. It takes planning and coordination, and your child can lose interest soon. But making a mini snowman is fun and doable. So, make miniature snowmen right in your backyard with your toddler and have fun. All you must do is make small snowballs and stack them on top of one another. You could even decorate them in any way you want. Use pebbles and baby carrots to make the face of your mini snowman.
6. Kinetic snow
You can get snowball makers online. These machines are designed for children to use easily. Give them some kinetic sand to work with. They can make snowballs with kinetic sand and drop them into a pail.
These colorful snowball makers also help with a sensory experience for your preschoolers. You may use clay instead of kinetic sand. This is a great winter activity for places without snow or if you are unwilling to send your children out in the cold.
7. Snowball alphabet
If your preschoolers have just started learning the alphabet, this is one of the best activities you can do with them in winter. You can also teach older children to make words or even spell their names. You can get printables on the internet with the alphabet on circles. You can even choose which letters to print out. These little white paper circles are a fun alternative to actual snow.
8. Snow cream writing
The fun activity for toddlers and preschoolers as it combines sensory development along with writing practice. Whether or not you have snow in your area, you can do this activity with your preschoolers. You don't even need to prepare much for it. All you need is a tray and some shaving cream.
Spray some shaving cream on a tray and smoothen it with a spatula. Let the children practice their writing skills by drawing the letters on the shaving cream. You can also use whipped cream instead of shaving cream as preschoolers are known to put everything in their mouths.
If you live in an area with snow, you can hide different items in the snow and let your children search them out. Children love digging and discovering new things, so they will enjoy this activity. You could even get a mini snow shovel for your toddlers' little hands. This is a backyard activity that you can do alongside your children.
You can even get a printout of the different things you have hidden in the snow and organize a scavenger hunt. Now, let the kids find everything on the list.
10. Target practice
All you need for this activity is to draw a target on your fence. Let the children make snowballs and throw them at the target. This backyard game develops your children's gross motor skills and hand-eye coordination. It is also great for improving their focus and target.
If you do not live in a place with snow, you can glue sheets of paper on your walls and draw targets on them. The children can throw plastic balls at them to see if they hit the target.
11. Snowball counting
Whether or not there is snow in your backyard, you can do this activity with your preschoolers. This fun activity can help children who are learning to count. Get printables from the Internet with numbers printed on them. Have a number printed out on each sheet.
Children can make mini snowballs and place them beside the number sheets. You may laminate the sheets to keep them dry. For areas with no snow, make small cotton balls and put them in a mason jar with a paper snowman glued on it. Let children place the cotton balls next to the number sheet.
12. Snowman craft
The snow-free activity can be done indoors too. All you need is some cardstock, cotton, glue, pencil, googly eyes, and construction paper. Draw the shape of a snowman on cardstock. Apply glue and stick the cotton on the shape. Stick the googly eyes. Design a nose, muffler, and hat for the snowman using construction paper. Stick them on too. Display this cute snowman on your classroom window during Christmas.
13. Snowball toss
Besides being a fun activity, this winter activity improves your child's hand-eye coordination. This is a simple activity that requires minimal preparation and provides hours of entertainment to children. All you need is a laundry basket, some white socks, and beans or rice.
Place the laundry basket in your backyard. Fill the socks with rice or beans and tie the mouth. Children should throw these 'snowballs' into the baskets. If you have snow, they can make real snowballs and toss them into the baskets.
14. Snow slime
Try this activity with your toddlers and preschoolers once you get the first snow. You need some shaving cream, baking soda, glue, foam microbeads, and some saline solution. Mix them all, pour the saline solution last, and create slime easily in your classroom. Let children have fun with slime as they always do.
15.  Snow castles
Winter is the best time to build snow castles. You can get some brick makers if you live where it snows heavily. Make some bricks and build a castle, a home, or even an igloo. If you don't get snow, you can create a castle with planks of wood or cardboard sheets and paint them white. You may also use confetti, foam balls, or cotton to create fake snow.
16. Snow creatures
Sculpt your toddler's favorite snow creatures this winter. As a toddler or even a preschooler, they will not be too adept with their hands but this way you can create a mythical or funny creature. You could even give it a cute name and decorate it in the way your child wishes. For example, a dog with three legs or a monkey with no tail makes fun memories. If you don't get snow, you could use clay or kinetic sand to make miniature snow creatures and decorate them.
17. Snow science experiment
In this simple science experiment using snow, toddlers and preschoolers can learn while having fun. For this experiment, you need a muffin tin, some snow, food coloring, water, and Alka-Seltzer tablets. First, fill half the muffin tin with snow. Next, add various food colors to each tin and stir it well. In the remaining tins, add water and food color. Put an Alka-Seltzer tablet into the tin containing snow and the other one containing water. Watch what happens. This is a quick experiment to show that temperature affects reactions.
18. Snow kitchen
Bring some pots and pans in your backyard for some innovative cooking sessions. Let the children pile snow into their utensils and "cook" lunch. They may also make various food items and run a mock snow restaurant. This activity is just for fun, and not eating. Ha-ha!
19. Spray bottle painting
Another easy activity that is sure to keep your gang of toddlers and preschoolers busy. Mix some food colors in water and fill spray bottles with it. Then, ask the children to spray the water on snow. Give them different colors. The effect of colored snow is often pleasant to watch. In addition, children can create their own masterpieces in snow.
20. Mini sledding hills
Source: iStock
What better time than winter to go sledding? Instead of going over to a sledding hill, you can create one in your backyard. All you need to do is pile up some snow into a slope and pack it together. It might take some time, but it is worth it. Your toddler is sure to enjoy the short ride down the slope. Make a DIY slip 'n' slide if you don't get snow. Sliding on the sheets can be enjoyed by both adults and kids alike.
These preschool snow activities are not just fun and enjoyable but also educational as they help develop various skills. While playing with your child, don't forget to capture memories that you can cherish for eternity.
The following two tabs change content below.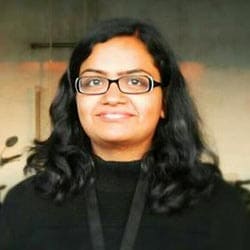 Nisha Bharatan
Nisha Bharatan is a freelance writer with experience in writing health and finance content for various Indian and international clients. An engineer by profession, she also did content marketing courses to complement her interest in writing. Nisha writes articles centered around kids' development, their activities, crafts, games, and fun elements that keep children and families entertained. Her research skills and experience…
more