Babies start experiencing gas a few days or weeks after birth. It usually resolves by itself at six to seven months but may last for longer. A common cause of gassiness in babies is air swallowed while feeding or crying. For breastfed babies, the mother's diet may also cause gassiness (1). In such cases, tummy massages can help release the trapped gas and relieve the baby.
Read on to learn about some baby massages for gas and other tips to manage gas in babies.
What Are The Symptoms Of Gas In Babies?
The symptoms that may indicate your baby is suffering from gas are as follows 1:
What Massages Will Help Relieve Gas In Babies?
Massaging your baby's tummy will help move the gas towards the bowel and relieve them of gas, colic, and constipation. You may use massage oil for proper movements and less resistance. Some daily massage techniques that may help release gas from your baby are as follows (2):
1. Tummy massages
Hands of a clock: Perform this massage in a circular motion. Make the bottom half of a semi-circle from your left to right with your right hand. Then make a full circle in clockwise motion with your left hand. Always perform this massage in clockwise direction with the left hand following the right.
Fulling: Place your thumbs flat on your baby's stomach and move them in a push-pull motion to the sides. Do two strokes above the naval, one stroke on either side moving out from the naval, and two strokes below the naval.
Paddling: With the sides of your palms, make downward strokes on your baby's stomach from the rib cage to the pelvis. Each hand should follow the other in a continuous motion.
Moonwalking: Use your fingertips to walk across your baby's abdomen from left to right. Do this above the naval area in a push-pull motion without poking.
I Love You: With your palms, form an 'I' on the left side of the baby's tummy. In the same way, draw an upside-down 'L' and 'U,' starting from your left to the right.
Knees up: While holding your baby's calves and knees gently, push both the legs together towards their tummy and hold it there for around five seconds. Repeat the process three to five times.
Circular massage: Using baby oil, massage around the navel in a clockwise circular motion with your right hand. Continue this motion while slowly making bigger circles around the stomach but under the ribs. Then, with your left hand, glide across and back on the baby's belly (3).
2. Foot massages
Reflexology is a therapy that effectively improves relaxation and wellbeing (4). Furthermore, certain studies on the effects of reflexology on babies suggest that they positively impact their health and wellbeing (5). Even so, more research is required for homogeneous results.
Nonetheless, after discussing with your healthcare provider or pediatrician, you could massage the correct pressure points in your baby's feet with moderate pressure to help relieve gas and colic.
3. Massages for colic
Colic is a condition where an otherwise healthy baby cries and fusses for unknown reasons for more than three hours (6). To date, the exact cause of colic in babies is unknown, but gas formation or food intolerance are sometimes considered as underlying reasons.
The massaging techniques used to relieve gas can help provide relief from colic as well.
What Are Some Other Tips For Managing Gas In Babies?
Other than massages, the following ways also help to manage gas in babies (7):
Ensure less air is swallowed by your baby while feeding by slowing down the milk flow. Try different types of bottles or nipples to ensure this.
Burp your baby during and after their feeding session to remove excess air from their system.
Lay them flat on their back, hold their legs in your hands, and move them in a bicycling motion. Also, try giving them some tummy time to pressurize the excess gas out of the body.
If certain foods in your diet may be causing gassiness in your breastfed baby, refrain from consuming them. However, consult your doctor before doing so to avoid discontinuing beneficial foods.
If your baby is formula-fed, hold off on powdered formula and use ready-to-feed formula instead.
Watch this video to better understand how to get started with the massages mentioned above.
Available On: YouTube
Gas in babies can cause problems for both the parents and the infant. Avoiding triggers and using proper massaging techniques can help relieve the pain and discomfort due to gas formation in babies and make them feel comfortable.
References:
MomJunction's articles are written after analyzing the research works of expert authors and institutions. Our references consist of resources established by authorities in their respective fields. You can learn more about the authenticity of the information we present in our
editorial policy
.
The following two tabs change content below.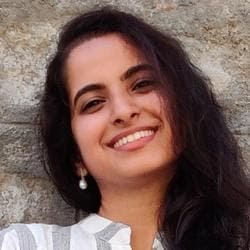 Sanjana Bhattacharjee
Sanjana did her post graduation in Applied Microbiology from Vellore Institute of Technology, India. Her interest in science and health, combined with her passion to write made her convert from a scientist to a writer. She believes her role at MomJunction combines the best of both worlds as she writes health-based content based on scientific evidence. Sanjana is trained in classical…
more