Hear, see, touch, smell, and taste! Are your curious toddlers licking and touching every random object around them? As toddlers begin to explore their surroundings, they enjoy seeing various colors, smelling odors, tasting, hearing new sounds, and feeling new textures.
Sensory play is one of the best ways to provide your children with the opportunity to explore their sensations. Besides attuning their senses, the sensory play also improves your child's motor, fine, and cognitive skills.
These five senses activities for preschoolers and toddlers can engage them in hours of play while letting their imagination and creativity peak.
10 Five Senses Activities For Preschoolers And Toddlers
This list of 5 senses activities for preschoolers can help you keep them engaged when you run out of ideas or anytime you want to introduce sensory play for fun.
1. Sound match
This game helps in honing their listening skills. It teaches children the importance of staying quiet while developing problem-solving and negotiation skills.
For this game, you will need several plastic eggs in different colors. Fill random items such as rice, beans, paper clips, beads, bells, etc., into two eggs each. Now, children have to pick each egg up, shake it, and determine the type of sound coming from it. They have to place it near the egg having the same sound.
2. Senses sorting
Children enjoy sorting games. With this five senses activity for preschool children, you can teach them the functions of each sensory organ. It is easy to organize. You can get pintables for the game online, or you could DIY them.
All you need is a muffin tin, a strip of paper in each cup naming the sensory organ, its function, and a few objects to sort. Then, the children examine each object and put them in the corresponding cups. For example, they can put a whistle into the "hearing" cup, a feather into the "touching" cup, and so on.
3. Popcorn explorers
Popcorn can be quite helpful in organizing a 5 senses activity for preschool. The fact that popcorn is so easy to prepare and consume only adds to its advantages. Watch your preschoolers polish off all the popcorn while learning something new.
While you make popcorn, let them pay attention to the popping sound engaging their hearing senses. The aroma of the delicious popcorn engages their sense of smell. Using their sense of touch kids put the popcorn in a bag. Now, let them decide if they want to use their eyes or tongue to satisfy their cravings.
4. Sandpaper sun
In this activity, kids can feel various textures and learn more about them.
Take two sheets of sandpaper. Cut out a circle on one sheet. Paint it in shades of the sun, on the other sheet, the children finger- or hand-paint the entire surface. Once it dries, cut out sun-rays and stick them to the sun. Now, let your children explore various textures and engage their senses.
5. Ice cream test
This is one of the most enjoyable five senses activities for preschool. They might even start asking you to get new ice creams every day to satisfy their taste buds.
Get ice creams in different flavors. Add scoops of all ice creams in different cups. You could also mix a couple or more of them. Blindfold the children. Feed them a spoon of ice cream and let them guess what each ice-cream flavor tastes like.
6. Water xylophone
If your child loves music, they are sure to enjoy this activity. It helps in developing a child's hearing and deduction skills. They hear these sounds and try to make music out of them.
Get similar-looking flower vases. You could also use glasses or cups. First, pour water into each of them ensuring the water levels vary in each container. Next, give your child a spoon. Now, the child taps each vase gently to generate a sound. Isn't this water xylophone quite fun?
7. Texture collage
If you are up for some messy play with your children, texture collage is a good activity to try.
Get a large sheet of paper. For the collage, find as many items of different textures as you can around your home. You can choose different fabrics, leaves, feathers, beads of different textures, fur, and even pieces of wood or metal. Apply some glue on the paper and stick these items together to create a beautiful collage. Once it is complete, encourage your children to close their eyes and run their fingers on each texture.
8. Visual tracking
Did you know, the most common method of tracking is following a color? With this easy activity, you improve your child's visual tracking skills as well as logical thinking abilities.
Gather as many recycled water bottle caps as possible. Use round dot labels or colorful markers to color the inside of each cap. Color them using bright colors. Then, get some pom-poms. Place the caps and the pom-poms on the floor. Now, children have to put the pom-poms in the cap with the matching color. You can ask them to close their eyes while doing this activity. You can also perform other activities with these items, such as peripheral tracking and staring.
9. Scented playdough
Though your children can identify various scents, they often do not know the names of those smells. This activity puts their nose to the test!
Get some white, unscented playdough along with some artificial flavors (strawberry, lime, vanilla, etc.) and food coloring. Divide the playdough into sections and add some color and flavor to each. Knead it all well and freeze the dough. Now, give these playdough sections to your children and see if your child can recognize the smell of each playdough section.
10. Eye spy bag
Eye spy bags can be fun for your little one. DIY your very own eye spy bag using random objects and let your child "discover" what's inside.
Take a Ziplock bag and put some tiny objects into it. You can put in beads, sequins, or anything you like. Then fill the bag with clear body wash and swish all the objects around it so that they appear to be floating. You may add some soap color to the liquid at this point. Once everything is mixed well, and all the objects are merrily floating, seal the bag and then cover the mouth with duct tape for some extra protection. Let your children run their fingers over the bag and find each object.
Sensory activities are easy to organize and a lot of fun to play. They provide your tiny tots with hours of entertainment on days when they cannot step out. You can use these activity ideas at home or at preschools too.
Besides teaching your children about the different senses, these activities also encourage lateral thinking while improving other vital skills. Try these 5 senses activities for preschoolers and toddlers and enjoy a day of discovery with them.
The following two tabs change content below.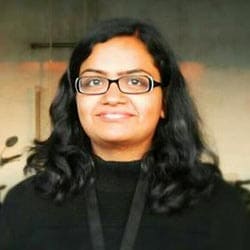 Nisha Bharatan
Nisha Bharatan is a freelance writer with experience in writing health and finance content for various Indian and international clients. An engineer by profession, she also did content marketing courses to complement her interest in writing. Nisha writes articles centered around kids' development, their activities, crafts, games, and fun elements that keep children and families entertained. Her research skills and experience…
more